Got some reference pics to try and get a look for these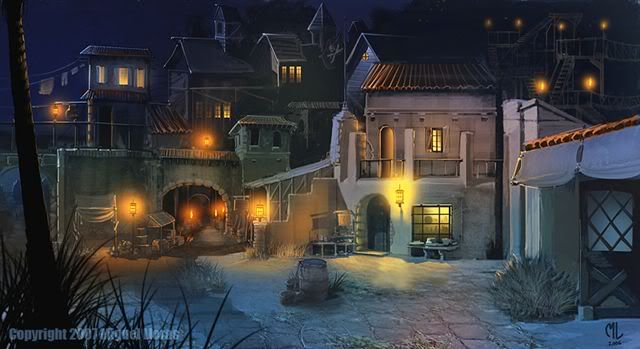 lovely pic I found on Deviantart
http://miggs69.deviantart.com/art/Pirate-Town-61141775

and good old Monkey Island



so clearly I should be going for rough white finish on the buildings and tiles on all the roofs. So I went looking for a while on how to make tiled roofs, some people seem to have found predone plastic sheets of the stuff but I couldn't fins any, so next best idea was to check art stores to find corrugated card. I bought a meter of the stuff which will last me forever.

Here's the trial run with the stuff after I cut rows of it and peeled off the backing paper.




Next up the new buildings. I was at a local convention called Leviathan entering the painting comp (my pirates hoard took 1st in unit and my Nomad took 1st in large
). While there I felt compelled to buy something since I wasn't playing in the tourney. I picked up a pack of rather nice Pegasus prepainted barrels and a couple Ork/Spanish style building kits from CNC Workshop.

Here's the 1st one surrounded by some market resin pieces by Grendel.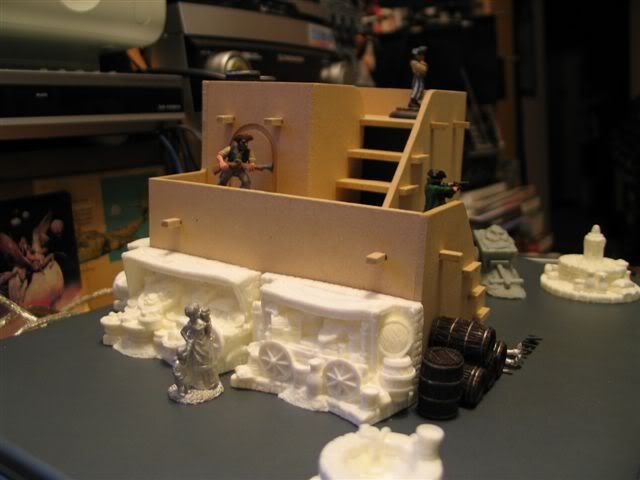 I must say these kits are very sturdy and pretty quick to clean up. Unlike the Chinese kits which are plywood and cut with a press with lots of round corners, the CNC ones are made of thick MDF that has been machine cut with some kind of computer controlled router. The corners are sharp and everything fits together without gaps and at right angles. Big difference in price though. Also interesting to see how the kit has been designed with minis in mind. The stairs and all the platform areas fit mini bases with ease. The huge gaps between the stairs are so you can stand a mini on each one. Only shame is the doorway which was designed with GW bases in mind not the big lip 30mm ones.

Here's the 2nd building which I decided to modify a bit.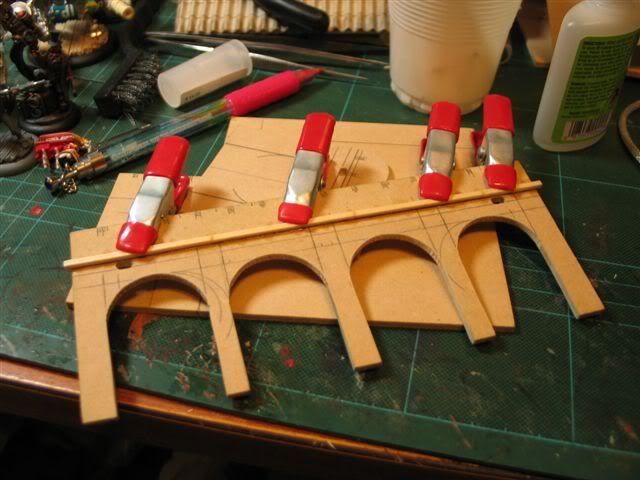 here I've cut the 4 arches out of the wall since that long blank wall seemed rather dull and I didn't have a building with lots of arches yet ( a pirate town must ).



I also made a new removable roof for the top floor and covered it in tiles. I also moved the to flat roof lower to be the floor of the room.



and lastly I decided to add a railing for the balcony from a heap of match sticks cut to length after I measured out the whole length of the thing to get them even.